Welcome to our newest 2017 catalogs!
By now my customers should have their very own copy of the catalogs.  If you have not gotten your please contact me and I will get your very own copy you. I fell in love with the catalogs as soon as I receive them at a catalog preview in November what we called ONSTAGE.  If you were on my online store you probably found out we had a system failure that Stampin' Up!® did not expect. This keeping us all waiting to place our orders.  It went down for totally different situation compared to the past. WOW! what timing it chose to do this with opening of our newest catalogs.
But the good news we are up and running now!

Sale-A-Bration is one of the best times of the year!
shop!
Here's the deal: for every $50 USD you spend (before tax and shipping), you get a FREE Sale-A-Bration product. That means it's the perfect time to purchase those products you've had your eye on while earning more products for free. To Shop go here to my online store!
host!
Need another excuse to get together with friends? Just host a qualifying party with at least $250 US in sales during Sale-A-Bration and you'll earn $25 USD more in Stampin' Rewards! You can even apply your Stampin' Rewards toward a Starter Kit and become a demonstrator yourself! Contact Me at Robin@RobinsCreativeCorner.com to set your date!
join!
It's the best time of year to join Stampin' Up! During Sale-A-Bration, you can become a demonstrator for just $99 USD and choose TWO additional stamp sets for your Starter Kit—any stamp set, any price! (Excludes Sale-A-Bration sets and bundles.) Plus, the kit ships for free!
To join the party, follow these steps: at this link: Join!
Which category do you want to participate in?
Birthday Bright Project Kit
Here is one of newest videos featuring the Birthday Bright Project Kit featured in the New 2017 Occasions Catalog.  I'm planning a class in the future featuring this very Birthday Bright Project Kit.  Let me know if you would like to be included in this class!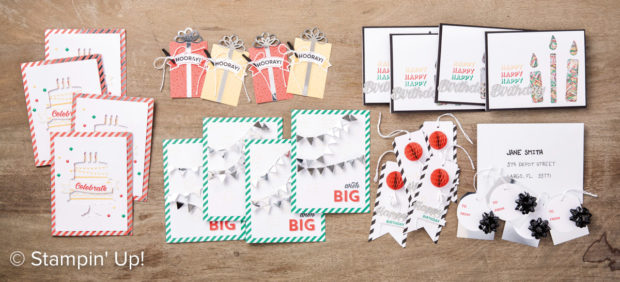 Check out the other new videos for the newest products here
Overwhelmed by all the choices?
Another option is our My Paper Pumpkin.  You can use our Pre- Paid Subscription and still earn a SAB free product placing your order at my online store.  Our 3 month subscription is now on sale until March 31st. saving you $4 and you get a free SAB product too. Our 6 month subscription you get 2 Free and our 12 month gives you 4 SAB FREE products.  These subscriptions can be use by you or even as a gift certificate.  Once the purchase is made you provide an email and a promotional code is sent to you to activate. Many enjoy having a surprise creative project come to them by way of mail after 10th of each month. So don't delay and you too can get your January kit to start the year right.