Make the most of our Online Extravaganza by enjoying flash deals on select items and bundles at a 20%-50% discount! But quantities are limited, and this great opportunity only lasts from November 24 through December 2, so get yours before they're gone.
Plus, there will be limited-time door busters on November 24 and December 1 on special products-some that have never before been paired together-that are only available for 24 hours and while supplies last! These specific deals are extremely limited, so act fast!
Additional Details:
Limited discounts available.
Once discounts run out, items will be available at retail price.
Bundles are while supplies last only.
You must use the items listed on the flyer to get the discounted price.
Another Bonus!
Also those who ever thought of joining the Stampin' Up! family as a Demonstrator now is the time to give it a try.  Everyone likes a deal right!
The Starter kit is ALSO on a huge sale! ONLY 75.00, and you get to pick out 125.00 worth of product! FREE SHIPPING!
Start saving money on your hobby now!  You can even use the extravanganza items as part of your kit so you are saving even more.  Contact me today for any questions you may have.  Would love to have you as part of my team!
So start your shopping now and use this Hostess Code  TNJ2N3VM 
Click image below for the flyer of all the items for sale.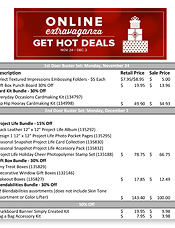 Rubber Hugs,