Did you know you can order from my online store from the comfort of your home and have it delivered right to your door.  Now Until Tuesday, July 30th Midnight I'm holding a MYSTERY HOSTESS EVENT when you Place your order and use this HOSTESS CODE CJCWJ7AJ you will be entered into the drawing for Hostess Credit.  Each $25 in product will receive an entry.  All $50 or more will receive the recent tutorial in a PDF via EMAIL with full instructions on how to make the product.
XXXXXXXXXXXXXXXXXXXXXX     July Mystery Hostess Project Content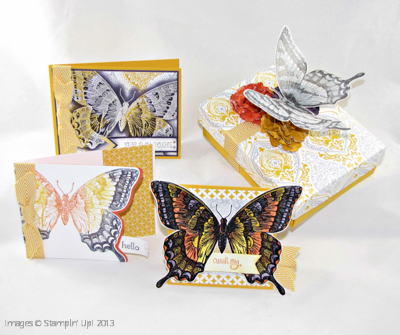 Six Swallowtail Techniques Card & Box Set
You've seen the popularity of butterflies and yellow in fashion and home décor lately. The same trends apply to stamping and crafting. Now you can combine them to create this trendy and feminine card set with coordinating box!
The Swallowtail background stamp is ideal for playing with a wide variety of stamping techniques. You'll learn six in this tutorial that will make your heart go aflutter! From resist techniques to fun shapes, you'll enjoy creating a true metamorphosis from simple paper and rubber to a beautiful card set that anyone will be thrilled to receive.
Stamps
• Swallowtail background stamp
(#131943 wood, #129216 clear)
• A Dozen Thoughts stamp set
(#131056 wood, #131059 clear)
Paper
• Eastern Elegance Designer Series Paper (#130131).
• Whisper White 8-1/2" x 11" Cardstock (#100730)
• Crushed Curry 8-1/2" x 11" Cardstock (#131199)
• Perfect Plum 8-1/2" x 11" Cardstock (#101889)
• Elegant Eggplant 8-1/2" x 11" Cardstock (#105126)
• Tangerine Tango 8-1/2" x 11" Cardstock (#111349)
• Vellum 8-1/2" x 11" Cardstock (#101856)
Ink
• Crushed Curry Classic Ink Pad (#131173)
• Perfect Plum Classic Ink Pad (#126963)
• Elegant Eggplant Classic Ink Pad (#126969)
• Tangerine Tango Ink Pad (#126946)
• VersaMark Ink Pad (#102283)
• Jet Black StazOn Ink Pad (#101406)
Accessories
• Canvas Creations (optional) (#129375)
• 1/8" Mini Brads (#122941)
• 3/4" Chevron Ribbon – Crushed Curry (#130019)
• Dazzling Details Stampin' Glitter (#102023)
• Black Stampin' Emboss Powder (#109133)
• Clear Stampin' Emboss Powder (#109130)
• Medium Envelopes – Whisper White (#107301)
Tools
• Blender Pen (#102845)
• Heat Tool (#129053)
• Embossing Buddy (#103083)
• Stampin' Pierce Mat (#126199)
• Paper-Piercing Tool (#126189)
• Paper-Piercing Pack – Essentials (#126189) (optional)
• Paper Snips (#103579)
• Stampin' Spritzer (#126185)
• Paper Trimmer (#126889)
• Simply Scored Scoring Tool (#122334)
• Simply Scored Diagonal Plate (#125586) (optional)
• Sponge Daubers (#102892)
• StazOn Cleaner (#109196)
• Punches: Blossom Punch (#125603)
XXXXXXXXXXXXXXXXXXXXXX Product Highlight XXXXXXXXXXXXXX
Swallowtail background stamp (#131943 wood, #129216 clear)
"If stamping techniques are your passion then the Swallowtail background stamp is a must-have investment! This large background stamp is sized to fill a standard 4-1/4" x 5-1/2" card front. It's a beautiful and timeless image that is wonderful as a focal point or background image for cards, scrapbooks and décor. The combination of the size and line art make it an ideal stamp for a large variety of stamping techniques such as; resist techniques, watercoloring, thumping, heat embossing, coloring with Markers, multi-colored stamping, baby wipe techniques, and more! If you are addicted to stamping techniques then you'll want to order the Swallowtail stamp and start playing right away!"
Tip: For best results with large background stamps, turn stamp rubber side up and tap with ink pad to ink completely, stand to stamp, press firmly over the whole stamp, and don't rock. Another option is to lay the paper on the rubber stamp and rub evenly using a bone folder, fingers or roller.
—————————
A Dozen Thoughts stamp set (#131056 wood, #131059 clear)
"I often have customers ask me what greeting set I recommend. A lot depends on your personal style, but a new stamp set called "A Dozen Thoughts" is one of my latest favorites. With 12 greeting stamps in a variety of fonts, it is one of the most versatile sets which makes it a good beginner stamper option. With stamps covering occasions like baby, birthdays, get well, invitations, thinking of you, and more all occasion greetings, you'll have the variety you need all in one handy set. Grab this versatile new set and you'll be ready to stamp away!"
Tip:
Use the Stamp-a-ma-jig for perfect placement of greetings.

—————————
Paper Snips (#103579)
"If you have ever said "I hate cutting things out!"– then you haven't used Stampin' Up!'s Paper Snips. The right tool makes all the difference and our Paper Snips are smart stampers secret weapon! I know, you are thinking I'm nuts for being excited about scissors, but really, the right scissors make a huge difference! Our Paper Snips have sharp, stainless steel blades perfect for intricate cutting. The 2-1/2" long blades have precision-ground tips that let you cut all the way to the tip of the blade so you can get into the tiniest areas, easily. The protective cover makes them safe and easy to transport and the comfort-grip handle makes them comfortable to hold. They are the perfect addition to your stamping supplies! You'll be amazed at all the new techniques and designs you'll try when you have these great scissors to use!"
Tip: Keep your Paper Snips sharp and un-gunked by using them only for paper and ribbon. Use your Craft Scissors for adhesives and other materials.
Blossom Punch (#125603)
Any Questions feel free to call or email me.
Happy Stampin',
Robin S. Boyer
Sr. Supervisor

The Rubber Stamp Store That Comes to Your Door