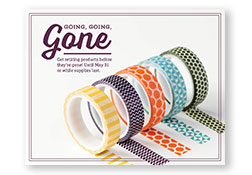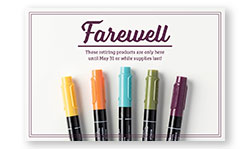 Exciting News!!  The Stampin' Up! Retiring Stamp Sets and product list has  been released today!
April 18-May 31, 2016 or while supplies last
We're getting ready to retire stamps and accessories from both the annual and occasions catalogs.  Save up to 50% on some retiring products!
RETIRING LIST
Due to high demand for retiring stamps, we'll keep producing retiring stamps

until May 22

Retiring Accessories are "while supplies last"
These lists are updated daily to show the availability of all retiring products.  Download the PDF for a quick reference, or use the Excel file to sort the list by product name, price, page number, discount, availability, or product type.  Check back regularly to make sure you have the most up-to-date information.
Remember this is while supplies last especially the accessories.  Don't wait or it may be gone. Use Hostess Code: HMGMBTCY at my online store before you check out.  Don't use if your order is more than $150 in product.
BOGO SALE
I'm celebrating my 15th year Anniversary with Stampin' Up!   Recently attending  our annual OnStage2016 where I got to walk across stage.  So to celebrate with my customers/friends any stamp sets you purchase from now until April 30th you will be able to pick from my many retired stamp sets.  First ones get first pick!  So E-mail me at Robin@RobinsCreativeCorner.com and let me know  your order is completed.
HOW TO GET A NEW ANNUAL CATALOG (US only)
The new annual Stampin' Up! catalog will release on June 1st.  Here's how to get yours
SHIP TIMES
New Catalog Ship times based on when your order was placed.
April 1-25:

catalogs ship in the first round mid-May

April 26 – May 10

: catalogs ship in the 2nd round

May 11 – May 31

: catalogs ship in the last round the beginning of the June
PRE-ORDER YOUR NEW CATALOG
If you don't have a demonstrator, and don't qualify for a free catalog.  The cost is $5.50 ( this is to cover my shipping costs).  These are 200+ big catalogs and idea books, and I purchase these and pay to ship them.  I offer them to you for free, but I need to charge to cover the shipping costs.  If you place an order of $75 in June.  I will refund the $5.50.  Simply drop me an email after you placed your order.  You can mail me a check for $5.50 or can even send it thru Paypal using this email Eager2stamprsb@aol.com