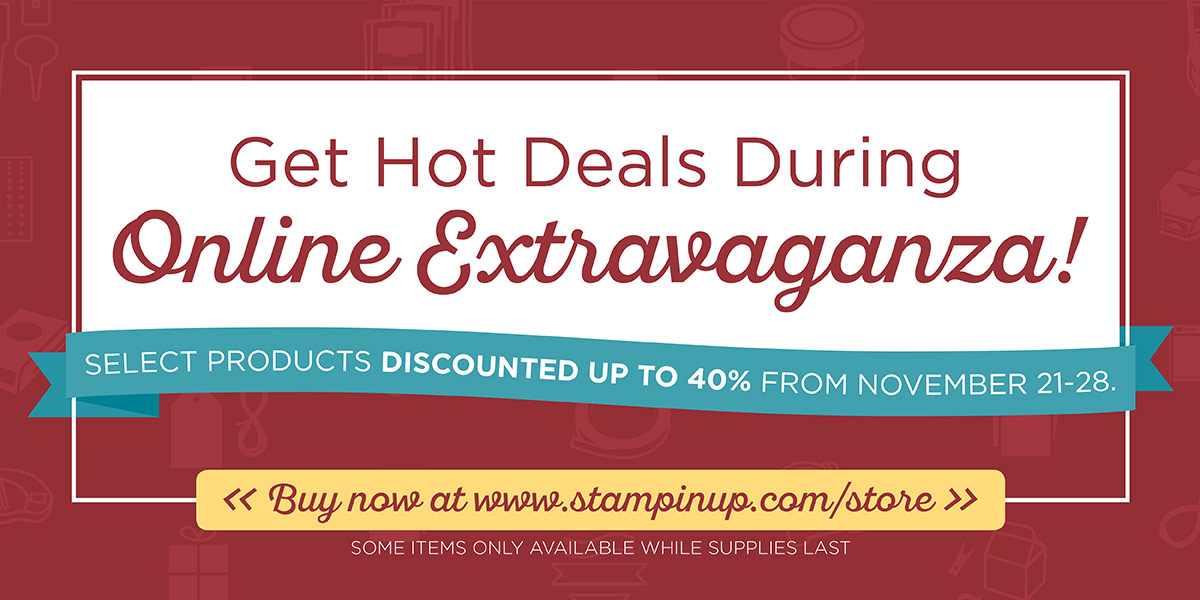 Online Extravaganza ends tonight at 11:50 PM (MTN) For one week only, November 21-28, you  can save up to 40% on select products. To sweeten the deals, today is our last Flash sale 24 hours, featuring special products available for that day only. You can even get a sneak peek AND save on products that will be on the future holiday catalog retiring list. You won't want anyone to miss out on this great opportunity to stock up and save!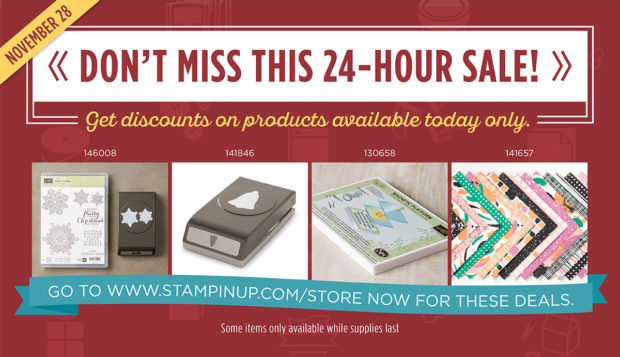 24-hour sale begins at 12:01 AM (MT) on November 28 and runs through 11:50 PM (MT) that same day.
(click the Photo or my online store link,  you will be taken to my online store where you will need to sign into your account or create an account if you don't have one.  Remember to use Hostess code XB2MWMZK  only if your products come to less than $150 in products.)
See the Deals Now!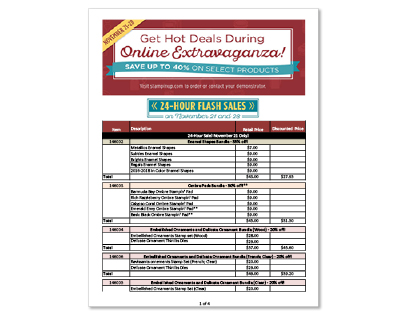 • Paper Pumpkin kits and products on the future holiday catalog retiring list, except stamp sets, are only available while supplies last. • All products that are while supplies last have been noted in the Online Extravaganza deals list.
Promotion Deadlines : • Phone: November 28, 2016, by 6:50 PM (MT) • Online: November 28, 2016, by 11:50 PM (MT)
My Holiday Helper 2016 has been released if you have not gotten yours you must sign up below to get your copy below it is by subscription only. You will receive 12 holiday tutorials to your mailbox. Make sure you have added my email to your email not to have them go to your spam folder.
2017 Occassions Catalog & Sale-A-Bration Catalog is being released January 4 2017.  Why am I mentioning this It is the most popular time of the year.  With each purchase of $50 or more in products you receive a free product from the Sale-a-Bration catalog.  If you have made a purchase from me in the last six months you receive your hard copies in the mail automatically.  If you don't fall in that time frame and you wish to receive your own copy, Please email me and provide me with your current full mailing address I will need this by this Wednesday by 6 pm, my mass mailing gets set up by this deadline. This is a free service to my customers who make a purchase with me within six months.  I am willing to mail these catalogs to you only requirement I have, I may call you to get your feedback on the catalogs.
During this time is our busiest time of the year and I am rebuilding my business for 2017.  I am looking to hold home classes, workshops, hold product base classes, Birthday Club classes monthly, Coffee and card, etc. but I will need your assistance and need your help.  Share what your crafting needs are and what your interest is.  If you can help and hold a party/workshop/class in your home during Sale-A-Bration set your date now. The sooner we set a date, I can reserve that time for you and your friends.
Happy Stamping,